Office Shenanigans V: What we want, what we deserve and what we get
Chapter 3
NSFW warning: This story contains very explicit language. Proceed with caution and only if you're an adult!
Previous Part
Back to Index
Back to Main Page
Crowley was angry. Too angry to care that he was ringing Aziraphale's bell at almost midnight. To his surprise, the buzzer sounded fast. Crowley all but flew up the stairs and arrived quickly at Aziraphale's door.
Aziraphale, however, was not in sight. The door stood invitingly ajar, but nobody was there to greet Crowley. Thinking about it now, Crowley remembered that he'd been simply buzzed in. No question who that might be at that time of the night. Was Aziraphale expecting someone?
Irrational jealousy gripped Crowley. He slipped through the door and kicked it shut from inside. But Aziraphale was not in the slightest surprised to see him. Almost challenging, he leant against one of his bookshelves and stared at Crowley. His expression was not at all as indifferent as his tone had been on the phone. He had his arms crossed over the endearingly old fashioned bathrobe he wore and glared at Crowley. The most surprising thing however, was the open wine bottle in his hand. The reddened cheeks and the slight wavering of his body suggested that Aziraphale was at least a bit tipsy.
Okay, apparently not expecting another lover, then. Somewhat appeased, Crowley stepped closer and cleared his throat. A minute ago, he'd known what he wanted to say. Then it had been swept away in jealousy and now it was hard to rediscover.
After a while, he said, "Aziraphale… argh!" He had barely opened his mouth when a splash of white wine landed in his face. Admittedly, it wasn't much as Aziraphale obviously had been busy drinking, but the message was clear.
"You little…," Crowley growled but stopped himself.
"No, no, Crowley," Aziraphale said sarcastically. "Do go on. Tell me what you really think of me? Whore? Slut? Fuck Toy?"
"What the Hell, Aziraphale?" Crowley asked. "For your information, I was about to say 'minx' which is nothing but a compliment in my books."
"Oh yes," Aziraphale said, slurring, but as always eloquently, "I'm certain it does transport exactly the traits of mine you most appreciate."
"Okay, I have no idea what you're talking about," Crowley said. "But it sure seems like you're mad. Which is rich. Since if one of us has reasons to be mad it's me."
"No," Aziraphale said and hiccupped, "Your girlfriend."
"Excuse me?"
"Well, if I were your sweetheart, I wouldn't like you shagging your employee," Aziraphale shrugged, "but I'm not, am I?"
"You can start making sense anytime now, Aziraphale."
"You're such a…" Aziraphale swung the bottle in his hands upwards. It was empty though. Confused, he held it against his left eye and stared inside. "Dammit."
"Alright, you done?" Crowley said, trying to and failing at not find his drunk angel adorable. "Because I'd like to talk about how you just dumped me for no reason…"
"No reason?" Aziraphale repeated. "'m sorry… yyyou being either very dumb or very cruel is not only a reason… itsssa spendid reason."
"What?"
"Oh come on," Aziraphale exclaimed. "You'd have to be very dense not to notice that I'm in… that I feel more for you than just…" Aziraphale formed a hole with his right thumb and index finger and pumped the left index finger in and out.
"No, no, I did notice, Aziraphale," Crowley said impatiently. "Or I thought I did. Which is why I'm very confused why you suddenly want to end it."
"Ha!" Aziraphale almost fell over. "So it's not stu- stupidididity, but cruelty."
"What?"
"You know I'm in love… erm… ah fuck it… know I'm in love with you. But you don't want me as your sweetheart. Still you string me along while you take that… weird lady who is obsessed with her own name to the charity ball as your date."
"I do what now?"
"Gabriel told me that you go to the Chesssterton charity event with Angelika 'with a k' Michael," Aziraphale said, averting his eyes. He let himself fall against the bookshelf, the fight suddenly leaving his posture. "Could at least have told me…"
Crowley pinched his nose bridge. He felt hopelessly over challenged right now. He was mad at Aziraphale, but Aziraphale was also mad. And fucking adorable… nope not the time. Crowley was also confused as something really didn't sound right. The three drinks in his own system did not help the matter.
From above the shelves, the cats watched the scene with interest. Crowley felt like he was having an audition.
"I would never ask Angelika Michael on a date," he said after sorting his thoughts.
"Gabriel told me."
"Well, he didn't tell me ! And I didn't ask anyone out"
"Oh, please, am I to believe Gabriel just assigned a date to you for the charity ball without even consulting or at least informing…" Aziraphale halted, his face took on a thoughtful expression and he slowly said, "Gabriel would, wouldn't he?"
Crowley sighed. "Looks like it."
Along the shelf, Aziraphale slid towards the ground. The bottle rolled around on the floor and Aziraphale hid his face in his hands.
"Oh, bugger." Aziraphale sniffled and his shoulder's began to shake.
After a short moment of hesitation, Crowley squatted down beside him. Gently, he grabbed Aziraphale's hands. With mild force he pulled them away from Aziraphale's eyes and made Aziraphale face him.
*
Through the haze of tears and alcohol, Aziraphale looked into Crowley's honey colored eyes.
"Hey," Crowley said softly.
"Crowley, I… I…" What could he say? He had made a complete fool of himself, accused Crowley of something he hadn't done and not only showed his cards but thrown the whole deck in Crowley's face. And some wine, too. So all he brought out was a whispered, "I'm so sorry."
Crowley got up and pulled Aziraphale with him. From the looks of it, he wasn't quite sober either, but managed to steady them both. He caught a stray tear with his thumb and smiled.
"It's fine," he said.
"How can you say that?" Aziraphale asked. "I yelled at you, blamed you for things that aren't your fault and doused you in wine."
"Well, I wouldn't say 'doused'." Crowley smirked. "You hardly left enough wine in the bottle to 'douse' someone."
"It's the thought that counts," Aziraphale pouted.
Chuckling, Crowley cupped Aziraphale's jaw. "Yeah, your thoughts became clear, but…"
"Sorry."
"Stop apologising," Crowley insisted. "I'm not completely surprised that Gabriel would pull that stunt, but I also can't claim I expected that. So I can't blame you for not expecting it. And it's understandable that you'd react like that," Crowley grinned, "considering how much you're in love with me."
"Oh, you!" Weakly, Aziraphale slapped Crowley's arm.
Laughing, Crowley caught his hand. "Plus, I would have reacted similarly if I thought you'd be planning a date with someone else."
Aziraphale sniffed. "Really?"
"Oh yes?"
"Why?"
Instead of answering, Crowley kissed Aziraphale's hand. "Aziraphale," he said.
"Yes?"
"Would you like to go on a date with me?" he asked. "Maybe to a charity ball?"
Aziraphale pursed his lips. Visibly fighting a smile, he turned his head away.
"I don't know," he said. "I'm not much of a dancer."
Quickly, Crowley pulled Aziraphale close. He whirled them both around and dramatically dipped the yelping Aziraphale as a finish.
"Don't worry, sweetheart," he grinned into Aziraphale's surprised face. "I'll teach you."
Wearing a light blush, Aziraphale stared at Crowley. Finally, he nodded. "It's a date then."
"It's a date," Crowley repeated softly.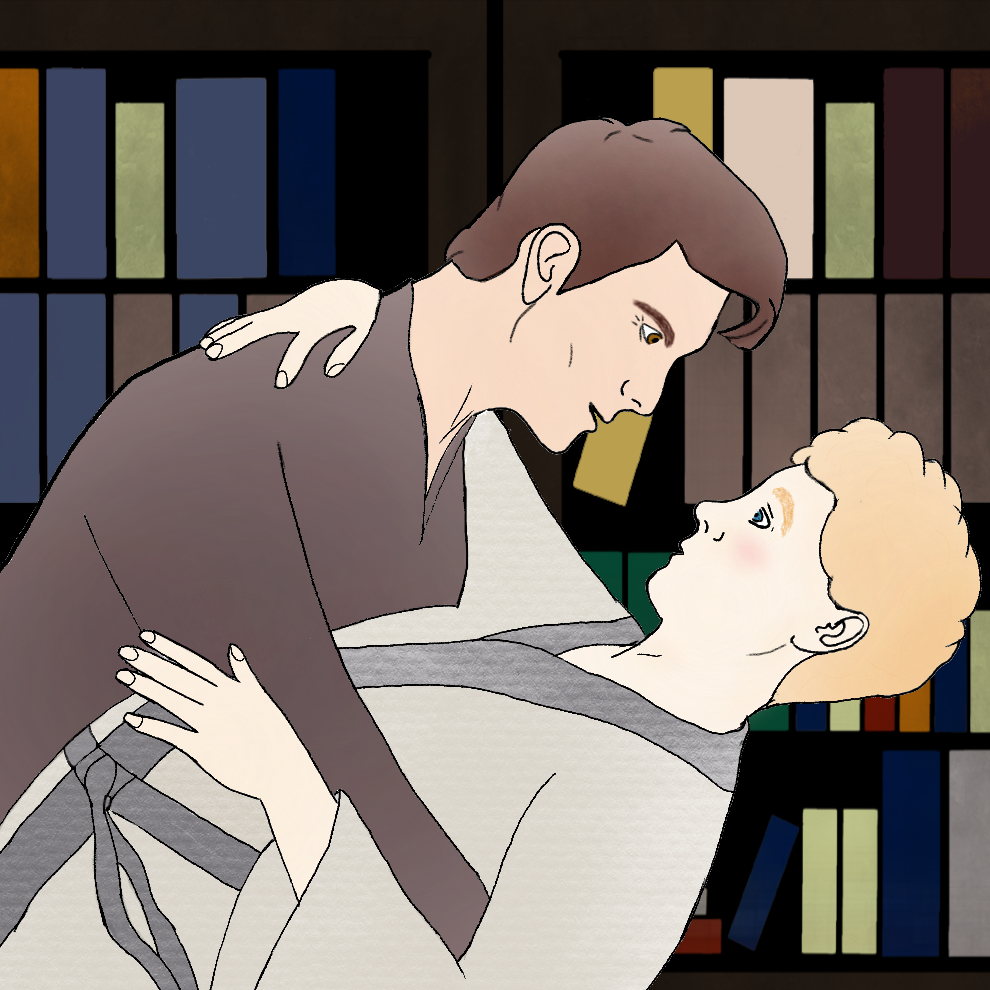 For a moment, they simply gazed into each other's eyes. Then their lips were locking and they tumbled to the floor, a mess of tangling limbs and wandering hands. Crowley pushed his tongue into Aziraphale's mouth and a hand under his bathrobe.
Wantonly, Aziraphale moaned. He rolled his hips against Crowley's, seeking - and finding - friction. A pleased sound rumbled in Crowley's throat as his free hand found Aziraphale's hair and pulled. But suddenly, he froze.
Crowley pushed himself up. Whining in protest, Aziraphale tried pulling him back down. But his attempts to get Crowley to continue his ministrations were in vain. Wistfully, Crowley shook his head.
"You're drunk, angel," he said.
"So are you," Aziraphale gave back.
"Not as much as you," Crowley chuckled and got to his feet.
Aziraphale grumbled. But he knew Crowley was right of course.
"Let's get you to bed," Crowley said and gently steered Aziraphale to the bedroom.
Hopeful, Aziraphale looked at Crowley, "Will you stay?" he asked.
A broad smile formed on Crowley's face. "If you let me."
"I do."
"Great." Crowley took Aziraphale's hand and led him to bed.
*
Exasperated, Crowley growled into the phone, " You do it!"
"If you insist," Gabriel said.
"I do! Since you set up this date without even telling me, you will cancel it," Crowley answered testily.
"Okay, okay," Gabriel said. "May I ask why? She is attractive and a good conversationalist."
"I'm bringing my boyfriend."
"Why didn't you tell me you have a boyfriend?"
"I… haven't known for long myself." Crowley smiled.
"Right."
"Right."
"Ah, Crowley," Gabriel said. "Maybe keep that quiet until I talk to Aziraphale about it. I think the poor thing has a crush on you. I'll break it to him gently and…"
"Gabe?"
"Yes?"
"You're my friend, but you're also exceptionally stupid sometimes."
"Hey, that's uncalled f…"
"Let's talk Monday."
Sighing, Crowley ended the call. After a moment of silence, he began to laugh. "What a moron."
"Oh, you talked to Gabriel?" Aziraphale said from behind.
"How'd you guess?" Crowley asked in fake astonishment.
"I'm psychic," Aziraphale joked, but then asked shyly, "Will you stay for breakfast?"
"Breakfast sounds fantastic, but," Crowley fiddled with Aziraphale's bathrobe until it slipped off Aziraphale's shoulders and fell down, "shower first."
Aziraphale's cheeks turned pink. But he nodded eagerly and let Crowley drag him towards the bathroom.
"Very sensible choice, sir."
"Yes," Crowley said as he pushed Aziraphale into the stall. "Very sensible, me."
Aziraphale smiled. "I suppose that's why you're the boss."
"Hmhm," Crowley hummed and crowded Aziraphale against the shower wall. "And don't you forget it."
"Never, sir."
The End
Back to Index
Back to Main Page